If you post a photo with text from Instagram to Twitter, your photo will no longer show up on Twitter. Lots of blogs have already covered this story. Some have even gone so far as to defend this decision.
If you're looking for photo services that haven't yanked Twitter cards. Here are 3 that are cool to use.
There's Camera+ which has lots of filters and photo editing tools. The main feature that I like about Camera+ is the light box that allows you to select and arrange which images to edit.
Here's an example of Camera+ embedded into Twitter.
Path is okay if you don't mind blasting your closest friends with Twitter updates. The iPad version of this app is really beautiful and lots of thought went into the UI. Here's its embed.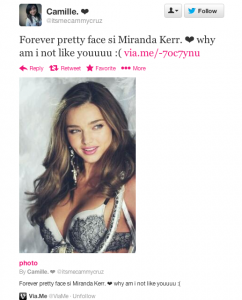 * Disclosure: I work on the API at Via.Me.